County District Attorney's Office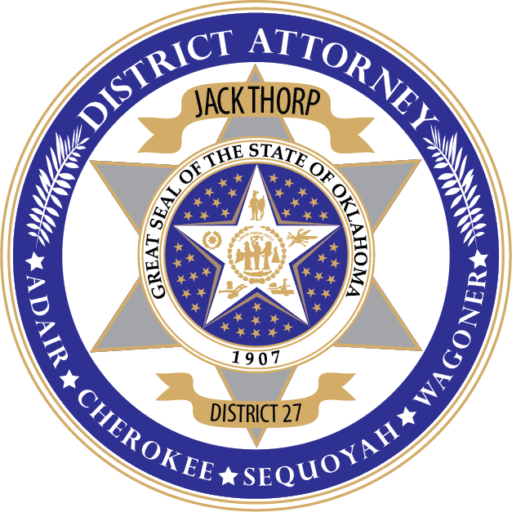 Jack Thorp
307 E. Cherokee
Wagoner, OK 74467
Hours:
Monday - Friday 8 AM - 4 PM
Phone:
(918) 485-2119
Visit Website
Sequoyah County District Attorney's Office
Oklahoma's District 27 is comprised of Adair, Cherokee, Sequoyah and Wagoner Counties. The DA's offices are located in each of the four county courthouses.
The District 27 staff is dedicated to the pursuit of justice and truth, and to the protection of the innocent and vulnerable.
About Jack Thorp
Jack Thorp served as First Assistant District Attorney before being selected to finish the term of outgoing DA Brian Kuester in July 2017.
Thorp grew up in Catoosa, Oklahoma and served in the United States Navy before becoming a prosecutor.
Jack is married to Joy Pittman-Thorp, Deputy Attorney General managing the Criminal Justice Division for Oklahoma Attorney General Mike Hunter. He has two daughters, Makenzie of Philadelphia, PA, and Delaney of Wagoner.
---
Assistant District Attorney's
Stacey Slaughter is the managing attorney for the Sequoyah County office. She has been an assistant district attorney with District 27 since January 1, 2011, specializing in cases that involve victims. Her caseload includes child abuse, rape, larceny and burglary.
Michael Dunagan handles civil matters in the district's Sequoyah County office including misdemeanors, felonies and juvenile cases. The veteran attorney has garnered 30 years of experience in both criminal and civil law throughout Oklahoma and Arkansas.
Will Cosner has served District as an ADA for four years, prosecuting cases ranging from unlawful possession of a controlled substance, to trafficking in controlled substances, to possession of a firearm after a felony conviction. He's also prosecuted violence against police officers in Sequoyah County.
Leanne K. Sloan serves the district as an assistant district attorney in both Sequoyah and Adair Counties, specializing in Child Support Services. Sloan assists families in all aspects of child support enforcement, managing the day-to-day business of the child support office and its five employees. She reviews and negotiates the terms of the annual state child support contract, oversees state and federal child support performance measures for the district's offices, and manages state and federal audits for the office (including annual IRS audits).
---